Building Factory Complexes in TC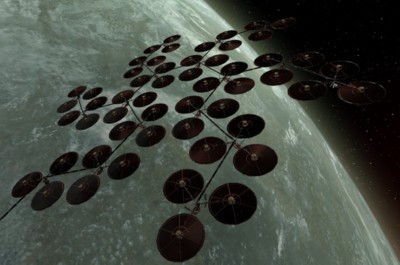 The ability to join two or more stations together to form a factory complex was introduced in X3: Reunion and since then it has become an important aspect of many players' X-gaming. From a simple two-station 'plex to a so-called gigaplex, there are very few limitations on the scale of complex one can create. We're going to take a look at complexes and what they're all about for the benefit of those players, who haven't yet tried complex building or for whom it just seems like too much hassle. We're not going to go into too much detail here, because members of our community have already created some excellent guides.
In basic terms though, how do complexes work? You can link just about any two or more stations together using Complex Construction Kits (CCK) that can be bought from shipyards. There are some stations you can't join to a complex - a trading station, equipment dock or Player HQ, for example. The process of linking the first two stations together using CCKs creates a complex hub, which becomes the focal point for the stations' docking and station management functions.
Why do I need a complex? A time may come when you need to build a complex to get a regular and reliable source of a particular ware. Missile production complexes are quite popular for those who like to board and capture ships with M7M class ships. If you plan to play the Hub plot in TC, you'll need to build some fairly substantial complexes in order to acquire the volume of resources that the plot requires. Some players have complexes that produce everything there is to produce, thus reducing their reliance on the regular economy. The right complex in the right place can be a huge money-spinner. Put a spacefuel or spaceweed complex in a place where there's a demand and there's no law enforcement around to get in your way and you can earn a small fortune.
How important is size? That depends entirely on the volume of product that you need to generate. The bigger the complex, however, the more messy the complex could potentially become. This is where the art of complex building comes into play. It's very simple to keep adding stations to a complex to increase capacity, but if it's not done tidily, you could end up with a big clump of interstellar spaghetti (see Image 1, below left) with stations bumping into each other and it becoming more and more difficult to add more stations. There are a number of ways of getting around this issue. If you are playing or are willing to play a **modified** game, then there are scripts and mods available to make building and maintaining complexes much easier:
Dusty's Factory Complex Constructor
Laux's Tubeless Complex Mod (German)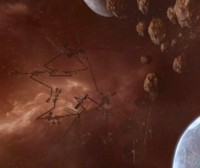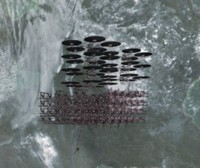 If you are playing the 'vanilla' game, it takes a little more work and practice to produce a pretty-looking complex. Some complex builders like to make them as compact as possible (see Image 2, above right), while the more artistic builders like to produce eye-candy complexes like the beautiful one at the top of the article. Whichever approach you take to your own complex building, the key to the complex's success is prior planning. Decide what you need to produce, which resources are needed to produce the product and what other resources you may need to get from elsewhere (this may also determine your complex's location). To determine which stations you will need and which size (there are S, M, L and XL sized stations to choose from) you may want to use one of the few "complex calculators" that are available (this one or this one, for example). The layout of your complex is really up to you to decide on, but the types of station you're adding to the complex will play an important part in how you lay it out. Similarly important to the layout is how the tubing, that the CCKs employ, joins stations together; getting this bit right can avoid the spaghetti effect mentioned earlier. A great guide to getting this bit right is available here.
One of the best ways to get into complex building is to just experiment until you find your own particular method and style. One of the key things to remember during complex construction is to save regularly. If you incorrectly place or join a station, you can simply reload and try again. From a complex-building point of view, one of the glorious things about X3 is that in the game's sandbox, you have all the time you need to hone and perfect this "art" although you may need quite a few million Credits too! There are many guides and forum threads dedicated to this complex topic (groan - ed.) far more than can be listed here and there are hundreds of community members, who will be pleased to help and advise you. Good luck and happy building!
Toastie