A spaceship made from paper?
The very first 3D models for the X games were technical drawings on graph paper from where their measurements were then transferred into the game files.
Today the models are created with professional 3D design software only to be printed out on paper by a creative fan - that's evolution! Well actually there has been some progress after all - back then paper meant 2D, today X3 player Ciprian aka the4ce has turned simple paper into a 3D model of the Argon Buster! Impressive!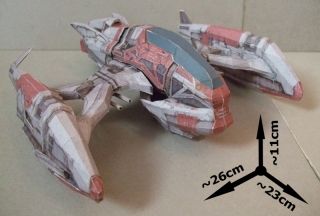 A few words from the creator of this marvelous piece of paper-spaceship engineering:
Ciprian aka the4ce:
"Since I started playing X2 and X3, I have always wanted to have a model of a ship. After some years I accidentally found some software that lets you make paper models from 3D files, and after a couple of months I learned how to extract the models from the game and made the Argon Buster. I hope you all enjoy it! Good luck with building it!"
Want to show your appreciation? Thinking of building your own spaceships? Questions?
Discuss! http://forum.egosoft.com/viewtopic.php?t=214737
To download the model and instructions, click here: Argon Buster (paper model)
(instruction file is in .pdo format which requires the Pepakura Viewer)
MB