X3: Albion Prelude Released Today!
X3: Albion Prelude - Available on Steam NOW. Click here to order!
Today sees the release of the next episode of Egosoft's popular X-Series. X3: Albion Prelude lets you experience first-hand the tumultuous changes that are shaking the X-Universe as it prepares for a rebirth. What was once just a conflict has turned into a full-scale war. The discovery of new territories and changes to the gate network set the scene for even greater changes. A new storyline will introduce the player to the importance of corporate entities and their influence on technological progress in the emerging new order in the universe.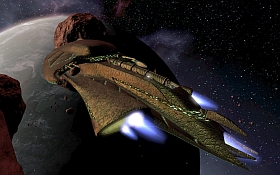 X3: Albion Prelude features a whole host of new content and features for everyone, from fighter pilots to trade moguls. The onset of war has lead to development of new military ships in attempt to turn the tide as well as new freighters capable of braving these dangerous times. The opening of Stock Exchanges presents a new avenue towards a vast empire and new graphs and analysis will chart you on your way. There are many more features and improvements, including support for head-tracking, to bring even more enjoyment!
X3: Albion Prelude is available on
Steam
for direct download in English, German, French (text and audio), Italian and Russian (text only) languages. You can buy either the
Add-On version
for €9.99, which requires X3: Terran Conflict activated on Steam or the new bundle called
X3: Terran War Pack
for €19.99.
X3: Albion Prelude will also soon be available for MAC OS through the
Apple App Store
early in 2012 and from today via
Deliver2Mac
. A boxed retail version of X3: Albion Prelude will also be available for the PC in February 2012.
Since X3: Albion Prelude was officially announced last week many questions were raised. In the following section, we'll try to answer the most frequently asked ones.
Add-on or standalone?
X3: Albion Prelude is an Add-On to X3: Terran Conflict. Using X3: TC as a basis, many improvements were made to the engine and other areas of the game. To limit its download size X3: AP will share files with X3: TC where it's possible. This means that a complete X3: Terran Conflict installation is needed to be able to install and play X3: Albion Prelude. X3: AP is treated as a separate game, with different folders for savegames, screenshots, control profiles etc. Even after installing X3: Albion Prelude, X3: Terran Conflict is fully playable and moddable. More on Mods below. Due to the major changes between X3: Terran Conflict and X3: Albion Prelude, savegames are not compatible.
Who gets the free version and the discounted versions?
Anyone with a Superbox will be able to download X3: Albion Prelude from Steam for free. Anyone with an X3: Terran Conflict version (this includes bundles like X3: Gold) will be able to buy X3: Albion Prelude for the 'Add-On' price of €9.99. If you have a Non-Steam version of either the Superbox or X3: Terran Conflict, you will have to register it with Steam before.
How do I register my Non-Steam version with Steam?
Every Non-Steam version of the X-Superbox and X3: Terran Conflict (including bundles like X3: Gold) that has an Egosoft registration code (a 4x4 digit combination of letters and numbers) can be registered with Steam. This includes, but is not limited to, all DVD versions as well as the digital download versions from Impulse (Gamestop) and Gamersgate.
If you have the DVD version of X3: TC the registration code can be found on the back of the manual. If you have the Superbox the code can be found on the back of a little booklet, where it's called 'Community Key'. Be aware of the fact that the Community Key is often printed a little bit unclear. So, if the code is not accepted the first time, check if you may have confused a letter with a number or vice versa (e.g. S instead of 5, Z instead of 2). After you have found your code, you have to enter it into Steam.
Click here to see an explanation about the necessary steps.
What about a retail version?
X3: Albion Prelude will be available in two retail box forms on the 24th of February 2012.
| | |
| --- | --- |
| The Add-On package is for those who already own X3: Terran Conflict and will contain X3: Albion Prelude at the 'Add-On' price of €9,99. Currently confirmed locations for this product include Germany, Austria and Switzerland. | |
For those looking for the complete package, the
X3: Terran War Pack
will be the perfect way to get you into the Argon-Terran war. It includes:
X3: Terran Conflict
X3: Albion Prelude
X3: Albion Prelude Soundtrack
This version will be available in stores in Germany, Austria, Switzerland, France, Italy, Spain, UK, the Nordics and Benelux states for a price of €19,99.
How are mods supported in X3: Albion Prelude?
The majority of X3: Albion Prelude files will be added to the 'addon' folder in the X3: Terran Conflict directory. This folder will contain its own scripts and mods folder, from where X3: AP scripts or mods are loaded. X3: AP does however load the catalogue files from the X3TC folder.
Are scripts & mods for X3: TC compatible with X3: AP?
Scripts from X3: TC can be loaded by X3: AP. Whether mods or scripts work depends on what they do or reference. Several files which existed in X3: TC were modified for X3: AP and are now loaded from catalogues in the 'addon' folder. Installing should be as simple as using the 'addon' folder as the target directory. Information on whether a mod works with X3AP may be found in its thread once tested by its creator or the community.
We hope that answers some of your questions about X3: Albion Prelude.
View X Youtube channel:
You can subscribe to the youtube channel to get informed of any new egosoft video release.