X Rebirth 2.0 - Secret Service Missions
Egosoft is extremely pleased to finally announce the release of
X Rebirth 2.0 - Secret Service Missions
. After considerable effort and with an eye to all the great feedback we've received, X Rebirth 2.0 represents a major update for a wide variety of gameplay mechanics.
Watch the official launch trailer for X Rebirth 2.0
Together with the new plot chain, which offers all players membership in the Argon Federation secret service, X Rebirth 2.0 brings a host of new features and improvements including:
New playership modifications allowing for different cockpit configurations for special purposes.
Two new configurable radar modes for the event monitor
An autopilot for your playership
Several new commands for ships in your squad, permitting much finer control over their actions.
A massive overhaul of the game's balancing, as well as the introduction of three difficulty levels, and achievements for the new difficulty level "hard"
Multiple new gamestarts in different areas of the universe specially tailored for traders, builders or fighters
A set of beautiful new capital ships which are especially useful for trading in Omicron Lyrae
An overhauled visual look and feel resulting from improved shaders and soft shadows
Lots of UI and menu improvements
Ability to deal remotely with lots of NPCs without the need to land on stations
Redesigned highway gameplay
Better support for joysticks
For a more detailed explanation of the new features, please have a look at the
X Rebirth 2.0 Feature manual
or discuss the new update with other players in the
official X Rebirth forums
.
X Rebirth 2.0 - Secret Service Missions will be released on May 20th 2014 on the Steam digital distribution platform, and is available as a free update to all our customers.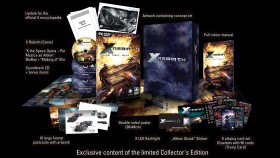 voxager - first album released
"Beyond the frontier" available in the Egosoft online shop now
Our latest
X-Universe News Edition
featured an interview with Helge Kautz, author of the official X-Universe novels, talking about his newest project voxager. Now the first voXager album is finally here as a beautiful and very elaborately-produced Digipack with a booklet and two CDs.
"Beyond the Frontier"
tells the story of Farnhams Legend with music. A colourful, enjoyable voyage with pop, electronic and heavy metal music. It is now available from the
egosoft online shop
for a price of just
€13
. Don't miss this unique and limited offer.