EGOSOFT is very happy to announce the release date for the long awaited 4th part of the X series:
X4: FOUNDATIONS will be available on Steam and egosoft.com on November 30th 2018.
X4: FOUNDATIONS brings our most sophisticated universe SIMULATION ever. Manage your assets or EXPLORE space in first person. Fly every ship, TRADE and FIGHT to BUILD your empire with modular station construction and THINK carefully when embarking on an epic journey.
Trailer and gameplay explanation videos
Watch the
official X4: Foundations trailer
here
:
Watch the
X4: Foundations Gameplay demo video
here
:
X4: Foundations - The start into the X4 universe
X4: Foundations will feature an extremely large universe from day one.
Home to several factions of the
Argon
,
Teladi
and
Paranid
races, each with multiple complex economies. The Paranid, for example, are a race with very deep religious beliefs, fractured into two competing empires and now raging war against each other.
Then there are of course also a lot of other potential adversaries: Those where you have a choice, like different
Pirate factions
, and those where you don't, like the infamous
Xenon
: A race of advanced artificial general intelligence, once built by mankind themselves to help colonise space.
There will be Expansions, which will bring more races, their ships, stations and lots of missions into the X4 Universe.
Our goal is to bring the first big Expansion within about one year.
Preorder X4: Foundations digital Collector's Edition today
X4: FOUNDATIONS will be available for $49.99 (€49.99) on November 30th.
Starting today you can
pre-order the digital Collector's Edition
and get:
Exclusive pre-order paint mod (requires Egosoft community account connected with Steam account)
The X Universe digital artbook 2018: Enjoy the concept art behind the X universe.
X Novel: Nopileos by Helge Kautz as English and German eBook.
Digital Soundtrack: Download the music, including exclusive versions of the trailer and teaser music in highest possible quality.
The X4 Collector's Edition will also include the first two Expansions for X4: FOUNDATIONS:

First Expansion planned to be released in 2019
Second Expansion planned to be released later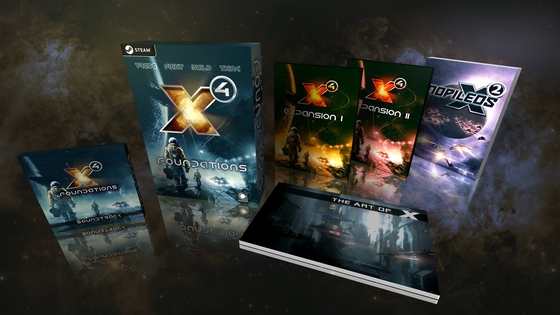 (Preliminary illustration)
Order the Collector's Edition of X4: FOUNDATIONS now for the
discounted
pre-order price of
$74.99 (€74.99)
at:
More information about X4: Foundations
| | |
| --- | --- |
| X4: Foundations website: | |
| First teaser video: | |
| Forum link to game information: | |
| Forum link to FAQ: | |
| Screenshot of the Day: | |