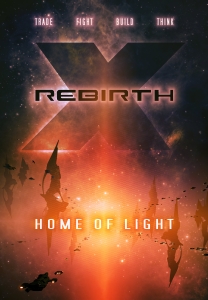 Hoy EGOSOFT anuncia la nueva expansión, "Home of Light" ademas de la actualización 4.0 para X Rebirth, ambas serán lanzadas en Febrero de 2016!
Home of Light
(HoL) es una excitante expansión del universo de X Rebirth y hace el mejor uso de las nuevas características de X Rebirth 4.0:
•
(HoL)
Universo mucho mas grande: La expansión, Home of Light, traerá tres nuevos sistemas completos incluyendo el central, Home of Light, conocido de los juegos X3, con nueva economía a gran escala.
•
(HoL y 4.0)
Bulletin Board System (BBS): Nuevo sistema BBS que recopila todas las misiones disponibles en el espacio para una vista general mas fácil.
•
(4.0)
Mejoras de comercio: Gráficos que muestran el desarrollo del mercado a lo largo del tiempo, un buscador de "gangas" y múltiples mejoras en la interfaz para hacer el comercio mas sencillo.
•
(4.0)
Nueva tecnología de motores: Amplia tu nave con un Motor de Salto y otra nueva tecnología para viajar a través del universo mas rápido que nunca.
•
(HoL)
Estaciones de Comercio: Un nuevo tipo de estación que te permite guardar grandes cantidades de cualquier mercancía que desees. Compra materiales cuando están baratos y véndelos cuando el precio suba o cuando las estaciones de tus competidores estallen misteriosamente.
•
(4.0)
Mejoras de armas personalizables: Fabrica modificaciones de armas para mejorar tus armas favoritas.
•
(HoL y 4.0)
Nuevos enemigos, nuevas armas, nuevas misiones, y nuevos fenómenos misteriosos.
•
(HoL y 4.0)
Muchos nuevos secretos para explorar en la lejanía del siempre creciente universo X.
La expansión Home of Light puede ser pre-comprada YA con un descuento del 20%
por solo 7.99 €
en
Steam
.
La actualización 4.0 de X Rebirth
será lanzada gratis
.
A principios de 2016 llegara el nuevo paquete completo de X Rebirth, que incluirá
The Teladi Outpost
y
Home of Light
por solo 49.99€. Disponible en Steam, GOG, o directamente desde egosoft.com.