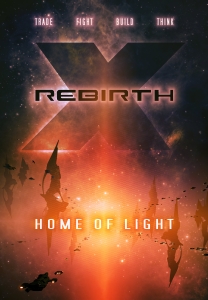 Oggi EGOSOFT annuncia la nuova espansione "Home of Light" (Terra di Luce) contestualmente all'aggiornamento 4.0 per X Rebirth. Entrambi saranno rilasciati a Febbraio 2016!
Home of Light
(HoL) è un'entusiasmante espansione dell'universo di X Rebirth che utilizza al meglio le nuove caratteristiche introdotte con X Rebirth 4.0:
•
(HoL)
Un universo più vasto: l'espansione Home of Light porterà tre nuovi sistemi, incluso quello principale di Terra di Luce, noto dai giochi della serie X3, con una nuova economia florida.
•
(HoL e 4.0)
Bacheca di Bordo: il nuovo sistema permette di raccogliere in un unico punto tutte le missioni disponibili al momento in una determinata zona, per una più facile consultazione.
•
(4.0)
Miglioramenti al commercio: ora sono disponibili dei grafici che mostrano l'andamento dei mercati nel corso del tempo, una ricerca dei migliori affari e diversi miglioramenti all'interfaccia grafica per un commercio più facile.
•
(4.0)
Nuove tecnologie di propulsione: aggiorna la tua nave con un Jumpdrive e altre nuove tecnologie per viaggiare attraverso l'universo più veloce che mai.
•
(HoL)
Stazioni commerciali: viene introdotto un nuovo tipo di stazione che permette di stoccare grandi quantità di qualunque merce. Acquista merci quando sono a basso prezzo e rivendile quando il prezzo è alto, o quando le stazioni concorrenti esplodono "misteriosamente".
•
(4.0)
Aggiornamenti per personalizzare le proprie armi: modifica le tue armi preferite migliorandole sotto tutti i punti di vista.
•
(HoL e 4.0)
Nuovi nemici, nuove armi, nuove missioni, nuovi e misteriosi fenomeni.
•
(HoL e 4.0)
Nuovi segreti da scoprire ai confini dell'Universo di X.
L'espansione Home of Light può essere pre-ordinata ADESSO con uno sconto del 20% a
soli 7,99 €
su
Steam
.
L'aggiornamento di X Rebirth 4.0 sarà rilasciato
gratuitamente
.
Arriverà all'inizio del 2016 un nuovo pacchetto completo di X Rebirth che includerà i DLC
The Teladi Outpost
e
Home of Light
al prezzo di 49,99 €. Sarà disponibile su Steam, GOG, e direttamente su egosoft.com.