IN 1999, YOU STARTED THE JOURNEY OF THE ULTIMATE DREAM... MANS DREAM.
X: Beyond The Frontier is the first part in the X-Universe series of games developed by Egosoft.
It tells the story of mankind's rise and fall in the universe, and the attempt by Kyle Brennan to help repopulate the stars using a new ship called the Experimental Shuttle, and how he became trapped in a closed group of sectors linked by a series of jumpgates, owing credits to an alien for helping to save him, and hunted by several people. Unknowingly, a group of secret service people are after him, a group who have tried to hide their races secret, that they are the descendants of a group of Humans who saved earth from the Terraformer fleet they created to help colonise the universe.
Now with the Truth coming out, X: Beyond the Frontier allows the player to play as Kyle Brennan on his hunt to find a way home, whilst helping a group of people find the truth about their ancestry, and continue to help save earth from the Terraformers who are now known as the Xenon.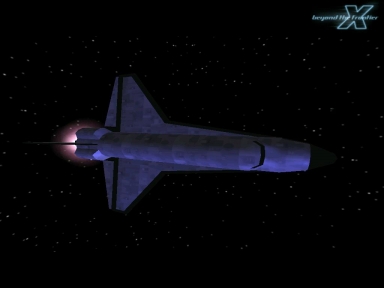 Trade
Trade in over 50 sectors, with over 50 different goods, upgrade you ships with dozens of upgrades available to you by 5 different races.
Fight
Find the location of the hostile pirates and survive against attacks by the Xenon.
Build
Construct stations to build your own production empire.
Think
Adapt your trading empire to suit the needs of each sectors local economy.
"The game has an almost hypnotic effect at times, perfectly in tune with the pace of the game."
PCZone

"...an interesting non-linear storyline, lots of great visuals, and interesting gizmos to upgrade your ship ...."
Adrenaline Vault

"...If you miss the days of Elite and Privateer, then chances are you'll love X - Beyond the Frontier..."
Gamespot